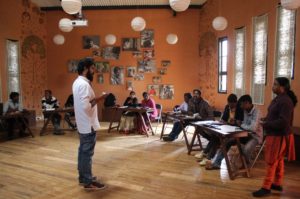 17 November 2016, Kotagiri: The water resources team held a meeting at campus today bringing together nine individuals (staff and volunteers) from Pillur, Sigur, Aracode, Konavakkarai, Nilambur and Coonoor. The meeting, conducted by Gokul and Selvi, reviewed data collected in the past month from these areas and set deadlines to complete baseline surveys and water resources inventory.
The next step is to start collecting data for developing a Village Water Security Plan. A village WSP aims to provide safe and sustainable drinking water to the community. A template for a village water security plan has been developed with inputs from the guidelines of the National Rural Drinking Water Programme (NRDWP) and engaging with the villages and getting baseline data is the first step towards implementing the Water Security Plan (WSP) in Keystone's project areas. Water security plans seek to ensure optimum utilization of available water to meet the needs of various users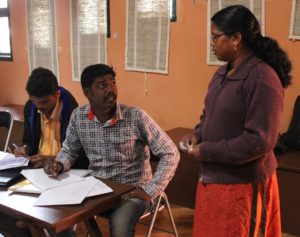 This meeting focused on explaining the WSP to the participants and giving them pointers on how to conduct village meetings on water resources. Pointers included how to initiate a discussion in a village regarding water and how to engage the villagers and interest them in sharing data regarding water resources and use.
NRDWP has developed a 5 phase process for water security in villages, starting with planning, implementation, and operation before moving on to monitoring and reporting. Developing a WSP involves the active participation of the Gram Sabha as this is where all decisions at the ground level are to be taken. Hence, the village leaders need to understand that springs, streams, rivers, and wetlands as being part of a very complex and sensitive system rather than individual resources. They also need to be informed as to the current situation of water in their area as well as details of usage in their own village.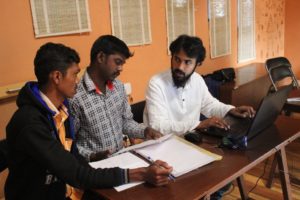 This information on baseline data regarding water use and mapping water sources is currently being compiled by the team members and volunteers of the Water Resources Programme. These individuals are the ones who will be generating enough data to enable the community to take informed decisions.
The participants conducted mock sessions where they developed a question set that would pique the villagers' curiosity and engage them in a discussion. They were trained on sustaining the discussion and creating a rapport with the community which would help with collecting data for further developing the draft village WSP. The plan developed would be implemented in a single village and used as a model that would be replicated and adapted for other areas.