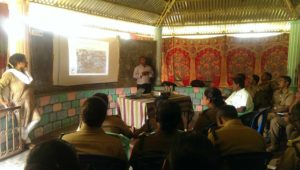 Keystone model of eco-development- a topic of hot discussion with Range Officer Trainees of Tamil Nadu Forest Academy.
On May 20th 2015 Keystone Foundation was invited to give a guest lecture cum practical exposure to eco-development by the Tamil Nadu Forest Department at he Hasanur Keystone Resource Center at Sathyamangalam.
Robert Leo welcomed the group of 40 trainees and their senior co-ordinator Shri Chandrasekaran. After which Anita Varghese gave a 15 minute talk on eco development followed by the screening of a short clip from the honey hunting film. This was followed by a barrage of questions from the trainees which was responded to by Leo, Anita and Sumin.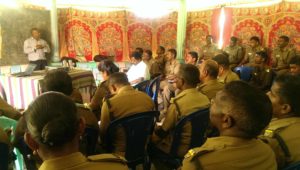 Some of the questions were on the issues of sustainable management of forest resources, importantly on what criteria can we make these decisions. There was an interest to know about each one of Keystone's activities and the functioning of an NGO. This was the first visit to an NGO for the trainees and they were a very keen and observant batch.
Following the interaction they were taken around to see the production center by Moorthy Sir, Rangasamy,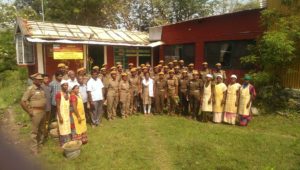 Rajamma, Chitra and other production staff of Aadhimalai Producer company. The products on display were a huge attraction for the trainees as were the value addition machinery and processes. We are certain that the visit has had an impact on the batch and they will remember how forests, indigenous people, traditional knowledge and value addition are interlinked for eco development activities.