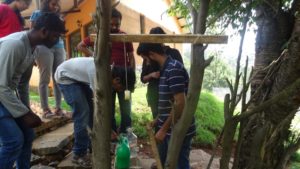 Water and Sanitation can highly affect health and can spread diseases. It is of crucial importance to raise awareness portraying the linkages between water, sanitation practices and health. Recently, Shurthi Rajan – Fellow from American Indian Foundation constructed a 'Training of Trainers' module for the Water and Health Team at Keystone.
During the training, the participants were briefed on personal hygiene and public health implications and how to organise a good discussion on Water, Sanitation & Hygiene (WASH) practices with the community health workers. The training envisaged enabling the trainers to help the community health workers visualize their role in being a promoter for healthy living in their communities. The trainees will also be able to help them understand where and how water must be protected and prevented from contamination.
The module also included an exercise where the participants practically learned to make a functional tippy tap using a used oil can, rope, and a plank.