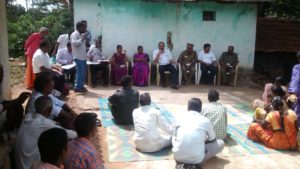 17 July 2016, Konavakkarai: P. Chandran of the Livelihoods team conducted a training on Forest Rights Act for Kolikkarai and Baviyur villages two days ago. Organised by United Nilgiri Conservation Society (UNCS), the training was attended by 35 villagers as well as the Kotagiri Tehsildar – Ms. Manimeghalai, Forest Range Officer for Kotagiri range – Mr Seenivasan, Village Administrative Officer – Mr Lenin, Forest Department officers and staff, surveyors, and UNCS staff.
The training consisted of making the indigenous community aware about their rights – individual, community and community forest resource management rights, granted to them under the Forest Rights Act. Chandran, or PC as he is better known, explained that the Individual Forest Rights (IFR) gives them the right to agriculture and residential rights; Community Forest Rights (CFR) is regarding the use of forest resources such as collection of not-timber forest produce, use of water resources within the forest limits, etc. The Community Forest Resource Management Rights (CFRMR) gives the indigenous community the right to conserve and protect the forest, its wildlife and biodiversity.
The process of realizing these rights was also explained in detail, starting with the formation of a Forest Rights Committee (FRC) of 10-15 members by the decision of the Gram Sabha consisting of all adult members of a village. The villagers then collect information regarding details of families, extent of land owned, and dependence on common forest resources, etc. The list of recommendations thus created by the villagers is then reviewed by the FRC and passed on to the Gram Sabha for final clearance from the village.
The claims cleared by the Gram Sabha are processed into appropriate forms (Form A-IFR; Form B-CFR and Form C-CFRMR) and are submitted to Sub-Divisional Level Committee (SDLC) consisting of sub-Collector or RDO, Forest Range Officer, Tribal Welfare Officer and three elected representatives from the Block Panchayat including one woman. The SDLC, together with the FRC, conducts a physical verification of the claims. The approved claims are then sent to the District Level Committee (DLC) for entitlements.
Supported by The Swallows, Keystone has conducted FRA trainings for villagers and interested organisations in Pillur, Sigur, Konavakkarai, Kotagiri Aracode and Nilambur. So far, Keystone has facilitated the submission of more than 1200 IFR claims its project areas areas. In the Konavakkarai area, UNCS and Keystone are collaborating on follow-up action to enable submission of appropriate claims under FRA.