12 June 2016, Nilambur: An awareness camp was conducted at Vaniyampuzha village in Nilambur on protection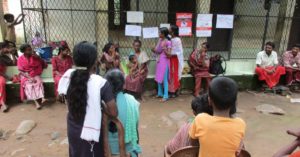 against monsoon diseases. Vaniyampuzha in north Nilambur is a small village consisting of 33 familes belonging to the Paniya community. Most of these families depend on the nearby Chaliyar river and Vaniyampuzha stream for all their daily needs. The lush green surroundings of the village are evidence of the heavy rainfall that this region receives. But along with the bounty of fruit that the neighbouring forests provide, this season also brings with it a number of seasonal illnesses which, if neglected, can prove fatal.
The common afflictions during this time of the year are dengue, viral fever, and water borne diseases such as dysentery and typhoid. There had recently also been one mortality as a result of diphtheria in a nearby area which had added urgency to the situation.
The single day camp was conducted by Ravi and Geeta – health workers, assisted by Ammini and Sudha who are community health workers (CHW) based in the village. CHW is a recent initiative by Keystone and has proved very useful in providing health support to the community.
This camp was attended by more than 20 people, most of whom were mothers concerned about the wellbeing of the family. The group was educated on three different aspects; protecting against the disease, recognizing symptoms and taking appropriate action, and care during convalescence.
The team explained that simple measures such as boiling drinking water, keeping food or cut fruits and vegetables covered, washing hands before cooking or eating, etc. would go a long way in reducing exposure to water borne diseases. They also explained that keeping the surroundings clean and ensuring that water was not allowed to stagnate near dwellings would prevent the proliferation of disease vectors and keep the family safe.
Ravi, Geeta and the CHWs used posters and flash cards to talk about the common symptoms of fever, headaches, body aches, stomach ache, vomiting and diarrhoea to the attendees. They explained how each disease displays a group of symptoms and how the patient needed to be cared for. The group was taught to make the Oral Rehydration Solution (ORS) using sugar, salt and water. Simple kitchen remedies for various symptoms like ginger juice for nausea, rice gruel water for dehydration, etc. were discussed. It was emphasized that lingering symptoms should not be ignored and should immediately be reported to the Primary Health Centre or the CHW.
At the end of the session, each attendee was aware about preventive and protective measures that would keep the family healthy and what immediate steps needed to be taken for the wellbeing of the patient. The CHWs are keeping a close watch on the families and will be recording the cases occurring so as to gauge the usefulness of the training camp.