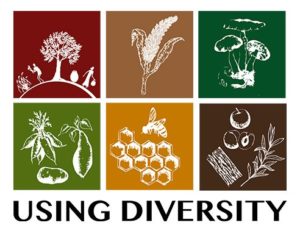 The Using Diversity (UD) Network began  in 1996 to promote agricultural biodiversity and stress the importance of uncultivated foods for  adivasi  people, mainly those categorized as Particularly Vulnerable Tribal Groups by the government. Last year, in August, Keystone was selected to manage the Using Diversity network in India. 

The network is supported by Misereor, Germany. The network carries the message of food sovereignty, diet diversity and health and nutrition of Adivasi people. The UD network works on the principal of Peoples Led Development (PLD), and it aims to empower local communities to understand and address issues and challenges facing them on their own, with external organisations only playing a supporting role. The UD project is being implemented through NGOs and CBOs in different parts of India, aimed at promotion, conservation and sustainable use of traditional agriculture, indigenous crops, crop genetic resources and uncultivated foods for enhanced food and nutritional security.

The project currently involves 2 hubs – Central India (Baiga and Bharia communities of M.P;  Pahari Korwas, Birhors and Kamars of Chhattisgarh; Paharias of Jharkhand); Western Ghats  (Kattunaickens, Mudhuvans and Cholanaickens of Kerala; Jenu Kurumbas, Hunbis and Siddhis in Karnataka; Irulas, Kurumbas of Tamil Nadu and Katkaris of Maharashtra). Grass root activities are carried out by community fellows from the respective targeted community and they work alongside the local communities to implement project objectives in tune with local realities. So far, the main activities undertaken are recruiting fellows from the community to be a part of the project and plan the activities with them.

In November, the Baiga representative, Naresh Biswas and four farmers from the project areas attended the World Organic Congress in India to showcase the mixed agriculture of Baigas. Seed exchanges took place and fellows were made in charge of seed banks, surveys  and  monitoring.  Currently, survey on uncultivated foods is ongoing in the project areas.