On 25th March, Anbil Dharmalingam Agriculture College and Research Institution (Trichy) – an affiliation of Tamil Nadu Agricultural University (TNAU) conducted a one-day value addition training on Non- timber forest produces (Ntfps) at Bangalapadigai production center – A setup by the tribal producer company, Aadhimalai. Bangalapadigai is an Irula village located in the Aracode region. This region is host to 27 tribal villages.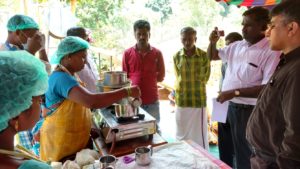 The training was held as a part of the project "Training on Enhancing the Livelihood Status of Tribal Women through training & demonstration on Non-Timber Forest Produce". The project is funded by the Department of Scientific & Industrial Research (DSIR), which is a part of Ministry of Science and Technology, New Delhi.
A total of 37 Irula tribal women and men NTFP harvesters took part in the training. During the training practical demonstration of value addition using different produce was given to the participants. Ms. Bhuvaneswari (trainer) from TNAU demonstrated value-addition using tamarind to make tamarind paste and Amla (Indian Gooseberry) to make Amla squash. Later, Kaliappan and Chitra, who have been associated with Aadhimalai since its inception– demonstrated the process of using bees-wax to make lip balms and briefed them on the specific usage of the value-added products. Aadhimlai has production centers spread across the Nilgiri Biosphere Reserve which focuses on providing employment to women in these villages.
Dr. Balasubramaniam (Project holder) and Dr. Ramanujam Banerjee (Project Secretary – DSIR) were present at the venue. While addressing the community members and participants, they emphasised on how value addition of Ntfp's will enhance their livelihoods and sustenance. Speaking at the event Dr. Ramanujam said 'I am happy to see women sitting up front with interest and eagerness, and it was unique to see such dynamism'.
Janakiamma – A Kurumba and one of the tribal Directors of Aadhimalai addressed the gathering on the importance of continuing the practice of collecting Ntfp's and supplying them to production centers. This pushes them to follow organic practices, ensures fair trade for which in-turn they will receive incentives.
Robert Leo (Deputy Director – Keystone) has been encouraging organic agriculture among local indigenous farmers. He briefed the participants on the linkages of conservation, livelihoods and enterprise development and on how these three aspects can function in unison. The participants received a booklet (produced by TNAU) in Tamil that contained processing methods of various products, which they all read out with great spirits.