24 August 2016, Nilambur: A training on value addition was conducted by the Livelihoods team on 22nd August for 14 persons of the Kattunaickan and Muduva  communities. Wild ginger is one of the NTFP (non-timber forest produce) that is gathered by the local communities and the participants were trained on value addition to create products based on wild ginger. Such products have a longer shelf life and also command better prices in the market, enhancing the family's income. The products included sliced ginger added to honey, ginger pickle (with and without garlic), wild ginger dried and powdered, and dried grated ginger.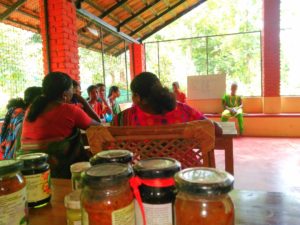 Rethi, from Patakarimba village, was the resource person for this training. She belongs to the Kattunaickan community. Rethi had been working earlier at the production centre at the value addition centre in Patakarimba for five years but has since shifted to a private company making the same products. She spoke to the villagers about sustainable harvesting practices for ginger and how it is crucial that they continue to follow traditional practices. Wild ginger grows in patches and the indigenous communities are familiar with the location of these patches inside the forest. When they harvest the tubers in an area, they sort them and immediately replant immature tubers in the same area. They then leave the area untouched for two years which gives the tubers plenty of time to grow and multiply.
There are many such patches in the forest and the communities can harvest up to 1 ton in a year usually during the months of June and July when the rains set in. The indigenous communities of any forest are the ones who have a deep symbiotic relationship with it. They do not make a distinction between the wellbeing of the forest and their own well being. Keystone's NTFP related initiatives aim to engage with the community, share their age-old understanding of the ways of the forest, and add to it modern practices that benefit both the community and the forest.