Over the years Keystone Foundation has closely worked with, and provided & received support from NGOs working towards empowering people and communities across the country. In the present world, a video can inform and motivate millions of people towards a cause. Videography as an art is used as a medium to speak of stories that remain untold. This as a tool gives power to an individual or a group attempting to speak to the world regarding a social cause.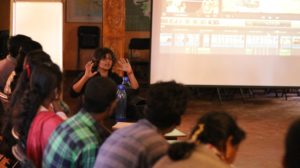 In order to empower people and communities to depict their stories and social causes they have been campaigning for, we facilitated a five-day workshop at Kotagiri. The workshop was facilitated by Rita Banerji, founder of Dusty Foots Foundation and also a Trustee of Keystone Foundation, along with, Pooja Iyengar – who has worked on Keystone films such as Gaur in my Garden and Abhishek K.R (Additional Coordinator), Keystone.
The Workshop began on the 22nd of February. It was offered to our network of NGOs across India. The idea of this workshop was to train staff working at the field level to be able to document the people-centered issues such as forest, water, land rights etc. Close to 25 participants from Dhaatri (Telengana), Sakhi Trust (Karanataka), Gram Swaraj Vikash Samiti (Odisha), Lok Panchayat (Maharashtra), Gramin Samassya Mukti Trust (Maharashtra), Regional Center for Development Cooperation (Odisha) and Prakruthi (Karnataka) took part in the workshop.
The five-day workshop had three days of classroom sessions, one day at the field and the final day for editing. The focal of the classroom sessions was to teach the participants the basic technicalities of shooting a video. The focus was more on story-telling rather than the intricacies of a camera. They were taught on the approaches to conveying a story through a video and were split into groups that were assigned to make a short movie by the fifth day.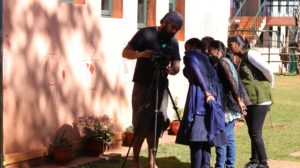 The field trip was to Bikkapathy Mund – a Toda hamlet in the upper Nilgiris. Each group had to come up with a story and were given an entire day to shoot their clips. The groups chose a topic around which they had constructed their story. On the final day, with help from Vishu, Devaraj, Guruswamy & Meena, the editing was completed. All four of them are graduates of the Youth Environmental Leadership Program (YELP) –  an elaborate course on Videography that was held back in 2016. The short videos that were made were essentially on the Todas and their culture. Toda Embroidery, Toda Buffaloes, their agricultural practices were some of the stories that were shot.
The workshop was an opportunity for the participants to learn a new skill. We look forward to seeing the knowledge gained over the five days put into effect. We take this opportunity to thank the organisations for supporting the participation of their respective staff.