The PGS Committee of IFOAM held its meeting after a long time (last meet in Modena, Italy during the IFOAM World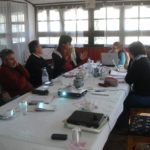 Congress, June 2008) during the 2nd week of January, 2010. Bhutan was the venue as the Bhutanese government was interested in looking at PGS as an option for certifying local produce for the local market.
The PGS Committee spent a couple of days, reviewing the progress that groups have made around the world. Vanaja Ramprasad, from the IFOAM World Board, also joined in for the deliberations.
Gunnar from Grolink was the resource person for the meeting with government stakeholders where Mathew presented the work that was being done in India.