World Board meeting at IFOAM – Mathew, had an exciting three days in Bonn, Germany. It was rendezvous time as the WB comes together every six months.
Mathew reached IFOAM office, Bonn on the 17th where the workshops had already begun. The day ended with a dinner at an Ethiopian restaurant hosted by TIPI – Technology Innovation Platform of IFOAM, a group that will help work on leading research questions.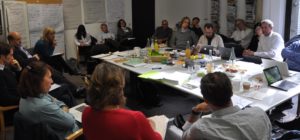 The meetings went off very well – extremely good vibes with the team and great fruitful discussions. Not that everyone was in agreement on everything but the positive discussions allowed positive outputs and it is extremely good to work in a team like this. Each team member brings a set of strengths and these are leveraged well for decision making. We were finally treated to a sumptuous lunch by interns in the IFOAM office. An evening of concert performance by the Klassiche Philarmonie was great.
Hoping to host the next WB meeting in April in Namibia.