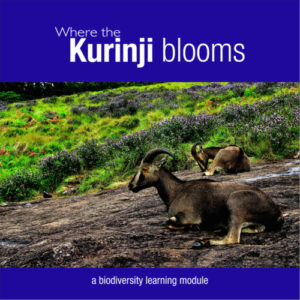 'Where the Kurinji blooms' is the educational component of the film 'A Fragile Treasure – Nilgiri Biosphere Reserve'. It is a biodiversity learning module for conservation education and has been designed for adults who work with children. The module is based on the Nilgiri Biosphere Reserve (NBR) and uses the region as the learning canvas. The diversity, inter linkages and richness of the reserve have inspired this book. This learning module can only be tapped fully if the adults are guided through the following principals of learning.
Educator-led activities, provided in this module are based on the experience of the Keystone conservation education team. The activities encourage children to discover animals and plants in a variety of habitats and their relationships. The module also encourages children to discuss with elders who are custodians of traditional knowledge in this biosphere reserve.
This module was produced & published by Keystone Foundation with financial support from Critical Ecosystem Partnership Fund (CEPF).
News contributed by Saneesh