World Wetlands Day is annually observed on the 2nd of February – this day marks the date of the adoption of the Convention on Wetlands in the Iranian city – Ramsar. 'Wetlands for a Sustainable Urban Future'- is the theme that was approved for this year.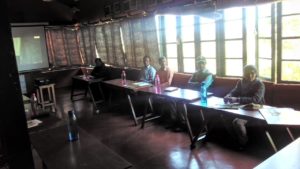 To mark this important day, a stakeholder workshop was held at the Keystone campus that saw the participation of members from Nakkubetta Foundation and representatives from local bodies – Town Panchayat and Forest Department; the two main bureaus that manage and administer the wetlands prevailing in Kotagiri. The half-day workshop included a short video on the eco-restoration patch – Happy Valley, a review of the crucial wetlands that Keystone has been mapping and surveying – using Google Tour Builder followed by a session for exchanging views, ideas and to discuss the highlights & challenges regarding wetland management in the Nilgiris.
Shiny Mariam Rehel (Programme Coordinator) gave a brief introduction on Happy Valley, its transition over the years and the visible benefits it has brought to the households residing in the valley. She also elucidated on the significance of restoring similar wetland patches to reap multiple ecosystem services that address the needs of humans, flora & fauna.
In the recent past, there has been a rapid increase in urbanization and tourism that has lead to drastic land use change which has left adverse effects on the wetlands. Many wetlands in the Nilgiris that prevailed a decade back have either been depleted or have become a victim of the land use change. Urbanisation should not be at the expense of wetlands; instead, it should be a part of the planning.
Last year, though many parts of the Nilgiris experienced a drought due to lack of rain, the spring in the Happy Valley region remained intact. Members of the local Panchayat speaking at the event said 'The entire Kotagiri town depends on 110 pump-sets that provide the water'. Most of these have been set up close to either a wetland or a spring from which the water is pumped.
Also, lack of field operators at the ground level has lowered the efficiency to attend to complaints regarding damages in pipelines and motors, which might have led to boring new wells. This could've escalated the pressure on these gradually depleting wetlands. Constructing a plan to replicate the 'Happy Valley model' on wetlands and springs can be an efficient way to conserve these productive ecosystems.
Local wetland conservation and management plans have been a significant part of our work in regard to water. We have been constantly engaging with various stakeholders to promote community-based management to nurture these resources. Empowering local communities to manage and conserve wetlands will prove to be valuable in future. Through social media – https://www.facebook.com/nilgiriswaterportal/, printed materials such as bilingual calendars and a dedicated site to our water-related work are some of the primary mediums through which we raise awareness on wetlands and springs.