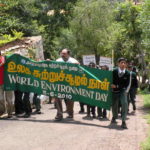 On the eve of the World Environment Day, a rally to generate environmental awareness among the public was organized by Keystone, involving school children . The rally started at Johnstone Square, passed through the town and ended in Keystone Campus. Altogether 225 students and 10 teachers from Green Valley Matriculation and Higher Secondary School, St. Mary's Home Matriculation School and Viswasanthi Vidhyalaya Matriculation School participated in the rally and tree-planting.
Environmentalists like Mr. Laxminarayanan, Principal of Green Valley Marticulation School, Dr. Ramakrishnan of Kotagiri Wildlife and Environment Association, Mr. K. J Raju of National Green Corps along with Pratim and Samraj from Keystone addressed the children on environmental issues and motivated them to contribute actively to the cause.
After this interaction at the Keystone campus,  the group undertook planting of natives species in the Happy valley adjacent to the campus. In all 191 saplings of 15 species were planted. View more pictures here.