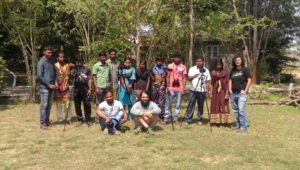 8 February 2016, Hasanur: The first Youth Environmental Leadership Program (YELP) initiated by Keystone Foundation is underway and 11 tribal youth from Chamrajnagar, Pillur, Sathyamangalam and Sigur area are seeing the world around them through the lens of a camera. The training is taking place at Hasanur on the borders of the Sathyamangalam Tiger Reserve. Each week they learn basic photography, filming and editing, and shoot images of nature and make their own photo features. Renowned wildlife filmmaker, Rita Banerji, and her team from Dusty Foot Productions Delhi are training these youth. Rita has already initated the Green Hub (https://www.facebook.com/thegreenhubner) in Tezpur in Assam, a one-year program that trains youth from the region in Nature photography and filming.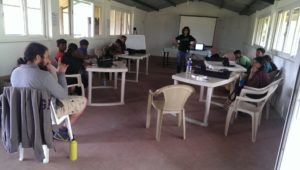 Week #1 saw Rita and Vijender Sharma from Delhi getting the students familiar with the equipment and, by the third day, there were already some amazing shots of birds. Abhishek from Keystone, who is helping with translations and also facilitating the class, is thrilled with the number of birds that they are getting to see every day. Soon they will be shooting reptiles – Abhishek's passion.
The Hasanur chapter of YELP has been made possible with support from the ABCO Advisory Services India Pvt. Ltd.