A two-day workshop on Herbal medicine and Natural remedy were conducted at Bangalapadigai and Sigur on the 9th and 10th of November, 2019. The workshop was facilitated by Parvathi Nagaraj from Pichandikulam Forest and she was assisted by Kalaiselvi from Amrutha Herbal Food. 

At Bangalapadigai – Six women took part among whom, few are part of the Community Health Workers (CHW) under the Health programme. Parvarthi briefed them about the need to include locally grown vegetables and leaves in their diet. Change in their diets from Millets to PDS rice could've led to a loss in nutrition intake . This gap can be managed effectively by using herbs and green vegetables in their diet. 

---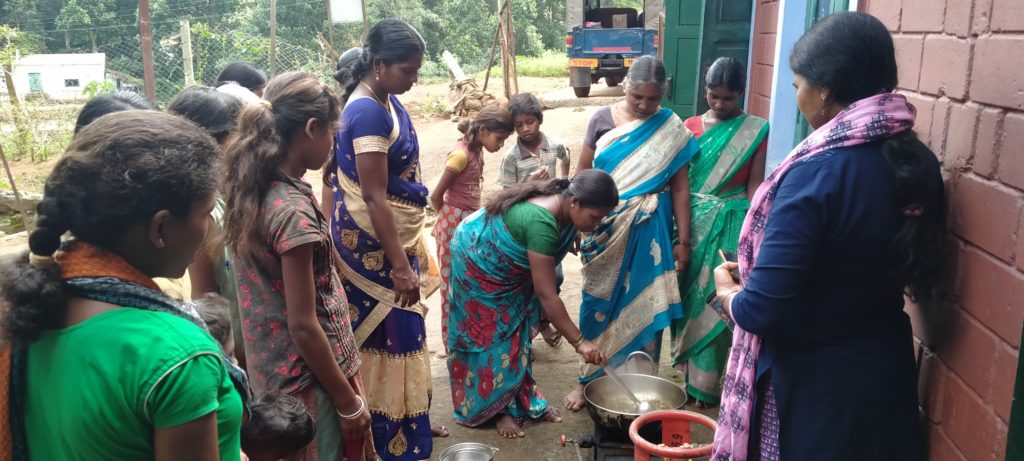 Since the locals' accessibility to a public hospital is minimal, herbal medicine has an important role in keeping them healthy.  Participants were encouraged to learn more about traditional-medicinal and local herbs found in their region.  With the help of  Parvathi,  they spent time identifying the locally grown herbs like Bhrami, Modakkathan, Nochi, etc. and she explained the medicinal uses of the same.

The workshop also had a demonstration session, in which Kalaiselvi guided the participants to make Herbal food and natural medications. They made Seema akathithailam for Skin disease, Astachoornam (tooth powder), Atathodai syrup for cold and cough, Vallarai Keeraithovayal, Nochi Mudakkathan oil.

Towards the end, Kalaiselvi shared her experience on how they formed a women's Self-Help Group to produce and market the herbal food products.

At Sigur – Sixteen women and three men attended the workshop. As a part of the presentation, Parvathi and Kalaiselvi demonstrated the making of Murungakeerai Soup, Aloe vera Jam, Peranda Chutney, and Naiyuruvithovayal. She also took a session on how to make natural remedies (medications) by using local herbs.

---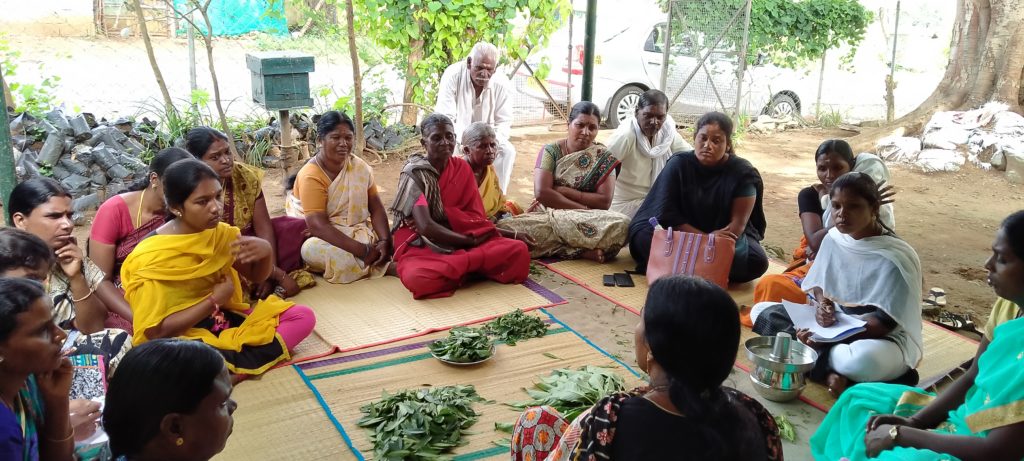 The participants were sensitized to the fact that our health lies in our hands. They were also enlightened that, taking natural/organic medication(remedies) for maladies can help the people avoid the side effects caused due to the consumption of chemical drugs or 'English medicines' as lore has it.

The session also attempted to make them realise the importance of consumption of organic food that can boost their immunity. In the latter half of the section, Kalaiselvi demonstrated the preparation of natural remedies like Seemaagathithailam, aadathoda syrup, Nochimudakkathanthailam and Oomathan Thailam.  In both workshops, participants, have shown a keen interest in lifting these herbal products into an entrepreneurship level. Even if resources won't flourish into an entrepreneurship level, still they will make herbal products for their needs. They were surprised to know the fact that they can consume nutrient-rich food without emptying their pockets.

By Keerthana