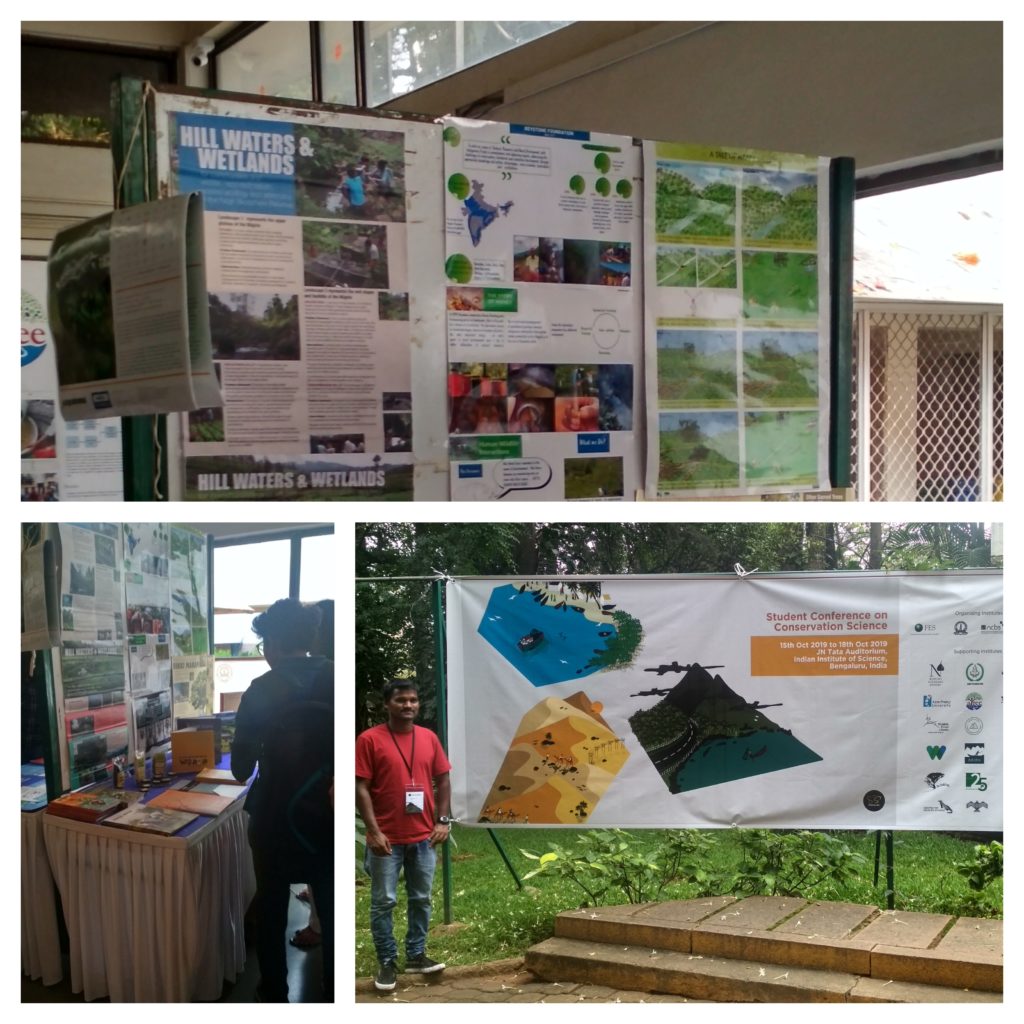 The Students Conference on Conservation Science (SCCS) was held in the JN Tata auditorium in Bangalore on the 8th, 9th, 10th and 11th of October 2019. This annual conference was attended by Beeman, Chandrasekar and Nayanatara from the Biodiversity Management and Restoration Programme and Bhavya from the Field Courses and Research Programme.


The aim of the conference is for like-minded individuals to explore the field of biodiversity conservation and to build networks which encourage and facilitate the exchange of technical knowledge, research ideas and experiences in the field of ecology and conservation.


This four daylong conference, jam packed with workshops, networking discussions specific to the line of work, plenary talks, students posters and Organisational-stalls showcasing their work through posters, publications, products, education and outreach material.


The four youngsters who are currently working on the subject of conservation with local communities in different landscapes participated in the workshop representing Keystone Foundation and the work being carried out in the Nilgiris.


The diversity in workshops this year highlighted the inter-disciplinary angle the conference aims to achieve in the conservation sciences; Workshops emphasising on technical tools for fieldwork, to using arts & drama to advocate for conservation through community participation opened several avenues for learning.


Overall, they felt it was a fruitful experience for the team as they were able to gain and share our knowledge as well as build new relationships with individuals and organisation in the field. They are looking forward to not just participating in the workshop but also presenting our work next year.


Learning Bits and Delights:


Chandrasekar (Field Assistant) – "This was the first time I participated in SCCS. The workshops that I attended individually were of great use for me. I learnt so much about habitat fragmentation and how animals adapt to changes. This is something related to what I do" – (Gaur Monitoring in semi-urban and rural landscapes).


Beeman (Field Assistant) – "It was inspiring to see some many young people like me including students interested in the field of conservation. I learnt how different people are addressing conservation issues related to plants, animals & natural resources in different landscapes across the country."


Bhavya (Subject Coordinator) – "It is my second time in SCCS and each year was an entirely different experience. This year I loved the hands on work related to communicating conservation to different audience using varied art forms, posters and local language writing. So it's time for my colleagues and the local kids I work with to make their hands messy with paints, and mind messy with words".



Nayantara (Subject Coordinator) – "This is my third time at SCCS, twice as a participant and once as a volunteer. For me some radical plenary talks by Nityanand Jayram- a social activist who highlighted how it is detrimental to address land-use changes in different areas using Chennai as an example. Another speaker worth mentioning is Mordecai Ogada- a conservationist from Africa- who highlighted how important it is to understand conservation from the communities' perspective – This was thought-provoking".

By Nayantara Lakshman