Kadambankombai village is a village located on the southern slopes of Nilgiris towards Pillur valley. There are 21 Irula tribal families that live and practice organic farming. They grow finger millets, Thuvar dhal, several kinds of Rajma beans and double beans (Zeebra beans). They surroundings are blessed with lots of fruit trees such as Jackfruit, Mango, Papaya, banana, oranges, custard apple and so on.


Besides that, They also cultivate coffee, pepper, areca, and cashew. Also to some extent they indulge in Non-timber forest produce collection like gall nut, Sikkakai and Nelli.


Women are mostly engaged in farming, and men do estate labour at far off places to earn money. So most of the resources like fruits and spices are not bee taken to market due to high transport cost involved.


To help them utilize their free resources that will in turn enhance their income, we conducted a jack fruit value addition training at Kadambankombai. 16 women have learned to make "Jack fruit papad".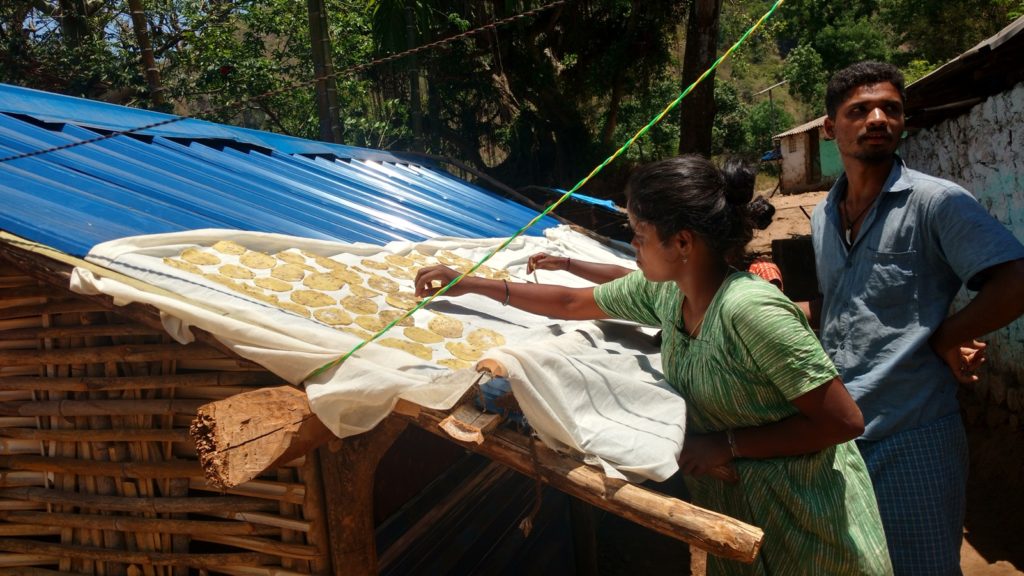 Raw jack fruits were gathered from their farm, cumin and pepper powder were added as ingredients to tweak the flavor. Well grown unripe jack fruits are steam boiled, mashed and flattened with powdered pepper, cumin and dried sun-dried with hygienic conditions.


More than 400 papads were made during the training. The women group have continued making them and have distributed them to local shops. Chapati press and clean cloth were provided to upkeep standards and hygiene.